SHIPS OF THE CLYDE
An easy-to-use nostalgic world-wide shipping history website ....... it's free to use ........ it's non-commercial ........there are no adverts......... and there is no need to register to use it. So far there are 37,405 individual entries on this website.
For example
March 1970 and Hall Line / Harrison Line Joint Service sailing notice for CUSTODIAN and CITY OF OTTAWA loading for west, south and east Africa.
March 1957 and Irish Shipping freighter IRISH ELM arrives in Glasgow with 7,500 tons of Grain from Philadelphia USA.
Front page of Master's report to the shipowners of Anchor Line's cargo ship TARANTIA (1942-1948) visit to Mahe in the Seychelles during World War 2. The full report is on "Latest Entries" at the top of this page.
Please help to make this website better.
We want to improve this website to make it more interesting and informative for you, the reader.
So, please tell us what you want to see : maybe more of this, or less of that, or something completely new. It's up to you to tell us.
We have visitors to this site from all over the world. They tell us about things from their countries, and this website is happy to include items from outwith the U.K. You will be surprised how many countries visit this site each day.
And we welcome any items which you can e-mail for inclusion to this site. They don't need to be associated with Glasgow and the Clyde. Anywhere in the world is welcome. As long as it has something to do with ships and the sea.
A suggestion was recently made that readers could become correspondents for their areas, submitting stories, images/photographs, information, whatever, for the present or the past. Would you be willing to be a correspondent for your area ?
Please e-mail any replies to ShipsoftheClyde1@btinternet.com
9 May 1928 the Chief Officer's Log Book for Donaldson Lines CORDILLERA from Montevideo to Buenos Aires.
An old steam tug FLYING SERPENT (1911-1947) on the Clyde
December 1961 and Furness Withy's freighter PACIFIC NORTHWEST arrives in Glasgow with general cargo from the Pacific Coast of North America
1 June 1971 the front cover of Sitmar Line's FAIRSTAR welcome dinner menu. The full menu is on Latest Entries at the top of this page.
February 2023 and Norwegian cargo ship FRI OCEAN at Ayr (Scotland) with a cargo of Soda Ash from Gdansk (Poland)
November 1955 and United States Lines sailing notice for services from UK and Dublin to USA.
May 1971 and a luncheon menu from Alfred Holt's Blue Funnel CENTAUR on passage from Singapore to Fremantle. More menus, a passenger ticket and Crossing the Line Certificates are in Latest Entries (see top of this page)
February 2023 and a heavily overcast winter's morning and Royal Wagenborg's SKAGENBANK was at Ayr (Scotland) discharging a bulk cargo of malted barley from Halmstad (Sweden).
Shell UK coastal tanker FRAGUM (1952-1964)
1960's and Canadian Pacific liner EMPRESS OF CANADA passes Cloch Lighthouse, Firth of Clyde, outbound from Greenock to Liverpool or Quebec and Montreal.
June 1964 and Shaw Savill's DELPHIC is at Glasgow and loading cargo for Melbourne (Australia)
May 1966 and TERNEFJELL and MONICA SMITH close at Glasgow for receiving cargo for the Great Lakes
3rd January 1966 and Master's Log for Burns & Laird's LAIRDSGLEN for her passage from Glasgow to Dublin and then return to Glasgow
April 1987 and Danish coaster ARRIBO collides with a railway bridge spanning the River Ouse near Goole (England)
April 1987 and JOSEPH LYKES (1960-1996) surveyed in dry dock after striking the mole at Gatun Lock, Panama Canal)
April 1987 advert by Hapag-Lloyd
January 2023. BY E-MAIL
Interested in your really good website. Was at Ardrossan Harbour around 1974 on Ropner's tanker THIRLBY when she was on long term charter to Shell.
A. (Middlesbrough, England) Name withheld by request.
May 1966 and Donaldson Line of Glasgow sailing notice for LISMORIA loading for Montreal, and SANTONA loading for Montreal, Toronto and Hamilton.
26 January 2023 and cement carrier NACC ITACA passes Greenock outbound on passage to Arzew, Algeria.
January 2023 and WILSON AMSTERDAM passes Greenock on her way up the River Clyde for Clydebank with a cargo of limestone from Galway, Ireland.
January 1955 and Danish cargo ship THYRA TORM (1951-1962) arrives at Glasgow from Londonderry (Northern Ireland) to load a cargo of potatoes for Haifa (Israel)
In 1952 the U.S. Navy aircraft carrier MIDWAY was at Tail of the Bank anchorage off Greenock and the paddle steamer CALEDONIA carried passengers to view the warship.
September 2017 and Argyll Ferries ARGYLL FLYER approaches Gourock Pier (Firth of Clyde) with passengers from Dunoon.
June 1962 and Bolton Steamship's ore carrier RIPON (1956-1972) was at Glasgow with a cargo of iron ore from Seven Islands (Sept Iles) Canada.
A youtube film about the construction of the Erskine Bridge, near Glasgow, around 1970.
Construction of the Erskine Bridge in 1970's
In the early 1970's a very large road bridge was constructed to span the River Clyde, joining the County of Dunbartonshire on the north bank and the County of Renfrewshire on the south bank. It is called "The Erskine Bridge"
A 22 minute long professionally made film, in colour, recorded the construction of the bridge, and also the surrounding areas and businesses and, shows the shipping and river traffic on the Clyde.
Yes, being produced in 1970 the film is quite dated, but, nevertheless, is well worth watching.
You will find it on Youtube
https://www.youtube.com/watch?v=2Dytx7z1yEg
November 1961 and Blue Star Line's COLORADO STAR (1957-1972) arrives in Glasgow to embark 8 passengers and load 1,869 tons of general cargo for Vancouver.
2nd April 1961 and Royal Interocean Lines passenger liners SEVEN SEAS and WILLEM RUYS both arrive at Sydney (Australia)
Front cover of Ben Line calendar for 1965
April 1961 and Kon. Rotterdamsche Lloyd passenger ship WATERMAN leaves Sydney (Australia) for Wellington, Tahiti, Balboa, New York, Southampton and Rotterdam.
August 1965 and Moss Hutchison's KANTARA has a change from the Mediterranean when she goes on a Harrison Line charter to the Caribbean Sea.
July 1965 newspaper cutting about Anchor Line of Glasgow ending their passenger service to India.
February 1967 newspaper cutting and Brocklebank's MAHOUT (1963-1978) goes on a 4.5 month charter by Fearnley & Eger of Norway for an America to Far East round voyage.
April 1967 and Matson Lines reduce family fares northbound on their liners MARIPOSA and MONTEREY from Sydney (Australia) to Paradise via Noumea, Fiji, Pago Pago, Honolulu and San Francisco.
July 1957 and Scottish Shire Line's freighter LANARKSHIRE (1940-1959) arrives at Glasgow to discharge, then drydock and then load general cargo for Durban (South Africa)
Postcard of around 1985 showing excursion vessel JUNGFRAU at Oberhofen (Lake Thun, Switzerland)
20 January 2023 and Madeira registered oil/chemical tanker PATAGONIA passes Greenock Container Terminal outward bound for Mongstad (Norway).
June 1957 and Alfred Holt's NELEUS (1953-1971) arrives at King George V Dock, Glasgow to load 630 tons of general cargo for Australian Ports.
A 1956 poster by British India Line for 100 years of service 1856-1956
Painting of Turnberry Lighthouse and Ailsa Craig at Firth of Clyde, Scotland
Ross & Marshall daily Clyde Puffer diary for 22 June 1962
January 2023 and container ship NORDIC HAMBURG (2010- ) leaves Greenock, Scotland for Dublin (Ireland)
July 1963 and P & O liner CHUSAN leaves Melbourne (Australia) on a cruise around the South Pacific.
February 1963 and P & O liner ORCADES leaves Sydney (Australia) on a 7-day cruise to Welington and Picton (New Zealand)
October 1963 and British cable ship ALERT (1961-1981) arrives in Rothesay Dock, Clydebank to load cable for the Faroes Islands.
Front page of dinner menu of Union Castle / Safmarine's EDINBURGH CASTLE (1947-1976) on 16th March 1976. The full menu is on Latest Entries whose shortcut is at the top of this page.
Front page of dinner menu of Ellerman's CITY OF DURBAN (1954-1971) on 16th June 1967. The full menu is on Latest Entries whose shortcut is at the top of this page.
May 1973 front page of leaflet for Caledonian MacBrayne's Clyde cruising on GLEN SANNOX (1957-1989). The full leaflet is on Latest Entries whose shortcut is at the top of this page.
April 1961 and Olsen Ugelstad cargo freighters RUTENFJELL and GRINDEFJELL close at Glasgow for receiving cargo for Montreal and the Great Lakes.
April 1961 and Ellerman Papayanni cargo ship ANGLIAN (1947-1963) closes at Glasgow for receiving cargo for Marseilles, Genoa, Leghorn, Naples and Sicily.
May 1962 and Shell Tankers Rotterdam KATELYSIA (1954-1977) arrives at Ardrossan Harbour, Scotland with a cargo of crude oil from Puerto Miranda (Venezuela) via Stanlow.
April 1962 and Hogarth's BARON INVERCLYDE closes at Glasgow for receiving cargo for Lisbon (Portugal)
August 1963 and Everard's coaster PENELOPE EVERARD arrives at Rothesay Dock, Clydebank (River Clyde) with 2,467 tons of clinker from London.
1st September 1972 crew list of Ellerman's CITY OF ADELAIDE, AUCKLAND, CANBERRA, CAPE TOWN, COLOMBO and DELHI.
February 1975 and front page of Alfred Holt's ELPENOR (1954-1978) voyage diary from 1975 to 1976. The full six pages are shown in "Latest Entries" (whose shortcut is at the top of this page).
March 1970 and Harrison's CUSTODIAN and Ellerman's CITY OF OTTAWA close at Birkenhead and Glasgow for receiving cargo for West, South and East African ports.
April 1964 and Commissioner of Irish Lights tender ISOLDA (1953-1976) at Ardrossan (Scotland) for annual overhaul.
Ben Bulletin magazine : Approximate positions of Ben Line fleet at Christmas December 1974
Some cruises from Sydney (Australia) in 1960
Around 1936 advert in "Java Gazette" by Ellerman & Bucknall Steamship Company in Jakarta (Java)
May 1963 and Donaldson Line's LISMORIA closes at Prince's Dock, Glasgow for receiving cargo for Montreal (Canada)
December 1959 and Cunard cargo liner BRESCIA closes at Glasgow for receiving cargo for Mediterranean ports.
Help needed about Clyde port and harbour launch DUNGLASS
Clyde Port and Harbour launch DUNGLASS in early 1940s
| | | | |
| --- | --- | --- | --- |
| 9 January 2023 | | Port of Registry | Glasgow |
Good Evening

My father drove/piloted M.V Dunglass on the Clyde from the age 16 to 18 when he enlisted for WW2. 1943-1945.
I was wondering if anyone had a photo of it or knew what became of it. Any help would be greatly appreciated and
happy for my message to appear.

Sincerely

Helen Duggan
11 January 2023 Willie McMahon replies
DUNGLASS may have been built by Hugh McLean & Sons Ltd., Boatbuilders at their yard in Renfrew. The business is long gone. Don't know where any records or archives will be in case any photos may have been taken.
January 2023 and Netherlands registered TAAGBORG passes Braehead, Glasgow, on her way to Riverside Quay.
March 1959 invitation by Anchor Line of Glasgow to a luncheon on their CALEDONIA at Birkenhead to meet the High Commissioner of India
January 1960 and Port Line's PORT WELLINGTON leaves Grangemouth for Australian ports.
Front page of Ben Line Agencies leaflet of March 1990. The full leaflet is on "Latest Entries"
December 1965 and Royal Interocean Lines TJILUWAH leaves Sydney (Australia) with passengers and cargo for Japan and Hong Kong.
June and July 1949 sailing notice for East Asiatic Lines services from Madras (India)
Ross & Marshall daily Clyde Puffer / lighter diary for 5 April 1955
August 1959 and Furness Withy freighter PACIFIC NORTHWEST leaves Glasgow for Vancouver with 2,300 tons of general cargo and 12 passengers.
June 1957 sailing notice by Union Castle Line for their services from U.K. and continent to African ports.
January 2023 and Caledonian MacBrayne's ro-ro ferry HEBRIDEAN ISLES at Troon (Scotland) undergoing maintenance by Dales Marine Services.
Excursion paddle steamer MERCURY (1934-1939) on the Firth of Clyde. Note the open (no wheelhouse) bridge.
1959 advert for R.F.D. Inflatable Liferafts
June 1967 and Clan Line's CLAN FINLAY closes at Glasgow and Birkenhead for receiving cargo for Tenerife, Durban, Lourenco Marques and Beira
October 1964 sailing notice for Frank Strick's ALBISTAN and NIGARISTAN loading at Glasgow and Grangemouth for Persian Gulf ports.
October 1964 sailing notice for P & O / Ben Line's BENVORLICH and SALSETTE from Grangemouth to the Far East.
2 January 2023 and the Panama flagged cement carrier NACC ITACA passes Greenock on her way upriver to Glasgow.
and also on 2 January 2023 Caledonian MacBrayne's ferry ARGYLE leaves Wemyss Bay for Rothesay.
and also on 2 January the world famous Cloch Lighthouse near Gourock, Firth of Clyde.
and also on 2 January the Caledonian MacBrayne ferry LOCH SHIRA leaves Largs for Cumbrae Slip.
and also on 2 January the Western Ferries SOUND OF SCARBA at McInroy's Point, Gourock loading for Hunter's Quay.
IRISH COAST (1952-1968) passenger / cargo vessel of Coast Lines, Liverpool. During her 16 years she served on the Irish Sea services between Glasgow / Ardrossan / Liverpool and Belfast and Dublin.
May 1953 and Moss Hutchison's TABOR closes at Glasgow for receiving cargo for Bordeaux, Nantes, Port Said, Beyrouth and Tripoli (Syria)
June 1953 and Ellerman Line's CITY OF SYDNEY (1930-1958) closes at Glasgow and Birkenhead for receiving cargo for Port Said, Suez, Aden and Karachi.
31 December 2022 and Amasus Shipping B.V. cargo ship EEMS DUNDEE at Ayr, Scotland, after a 16 day passage with wind turbine blades from Izmir (Turkey) via Ceuta (Spain)
30 December 2022 and CLARITY has finished discharging her cargo of Agriprods and is waiting on the tide to sail from the Port of Ayr, Scotland for Belfast
November 1963 and St Andrews Shipping / Denholm ore carrier DUNCRAIG arrives at Rothesay Dock, Clydebank, with iron ore from Pepel, Sierra Leone, West Africa.
Log Book for Moor Line's CRAGMOOR as vessel arrives at Brisbane, Australia in March 1955.
December 1955 and Port Line's PORT TOWNSVILLE closes at King George V Dock, London for receiving cargo for Adelaide, Melbourne, Sydney and Brisbane,via Cape of Good Hope.
Can anyone identify the ship (D F or O F on funnel / stack) at Glasgow, probably around 1950s / 1960s ?
Can anyone identify the passenger vessel at Glasgow, date unknown but probably late 1940s / early 1950s ?
September 1959 and Holland America liner ROTTERDAM (1959-1973) arrives in New York on her maiden voyage.
22 December 2022 was a very dull and heavily overcast day when Caledonian MacBrayne ferry CALEDONIAN ISLES (1993- ) arrived at Ardrossan Harbour on her regular service from Brodick, Isle of Arran.
June 1953 and Anchor Lines CIRCASSIA arrives at Glasgow from Bombay (India) via Liverpool.
Three Port Line ships at Hobart, Tasmania, around 1960. From left to right are PORT WELLINGTON, PORT JACKSON and PORT VICTOR. Contributed by Tasman ABC.
Painting of Canadian Pacific liner EMPRESS OF BRITAIN (1956-1964) at Liverpool. Contributed by Steven Millar.
Advertising poster for Anchor Donaldson Joint Service from Glasgow to Canada
August 1965 advert for Navigation, Radio and Radar courses at Watt Memorial College, Dalrymple Street, Greenock.
June 1965 and Oranje Line's PRINS WILLEM GEORGE FREDERIK (1954-1967) closes at Glasgow for receiving cargo for Montreal, Toronto, Cleveland, Toledo, Milwaukee and Chicago.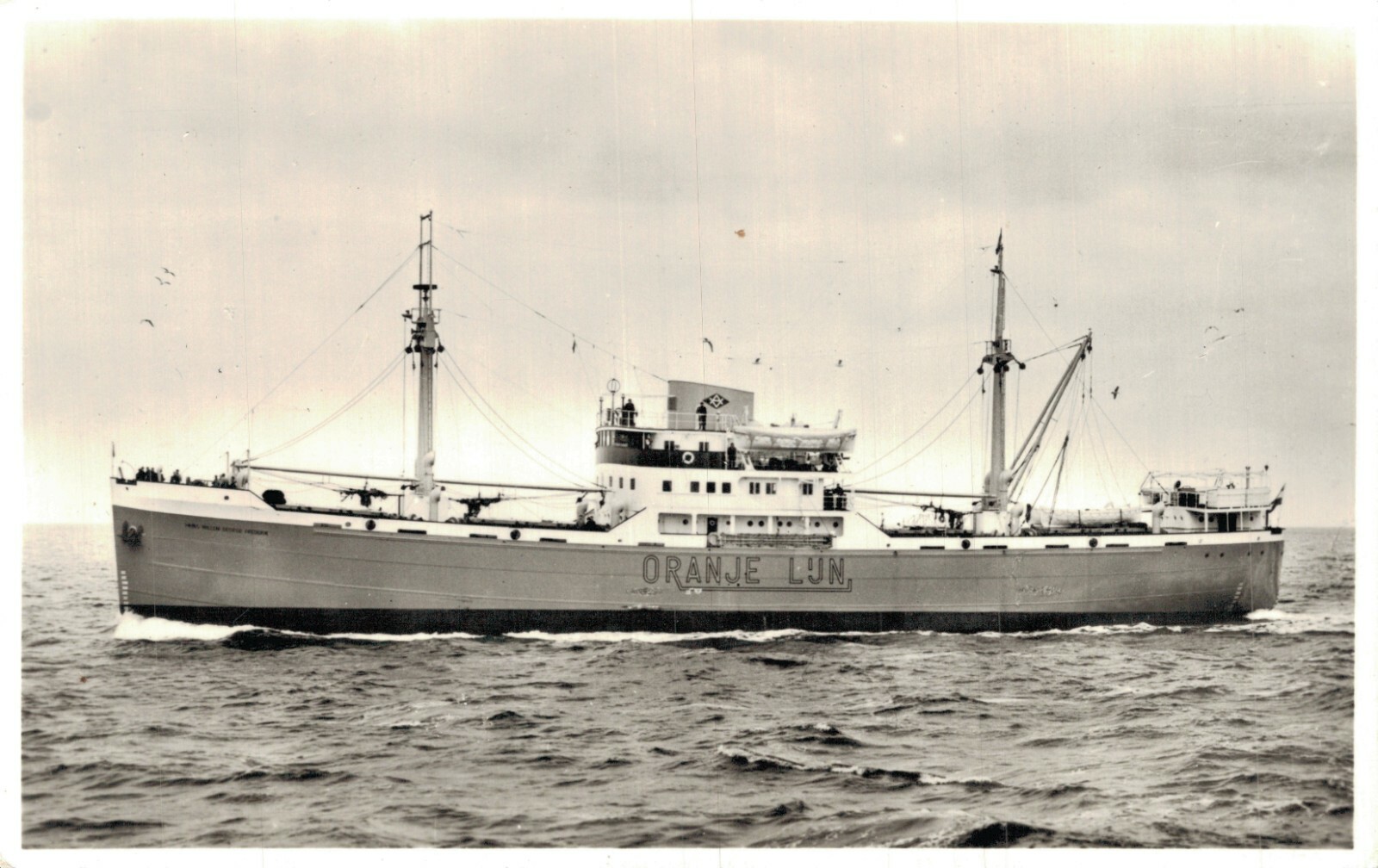 July 1965 and Harrison Line's FACTOR (1948-1972) closes at Glasgow for receiving cargo for the West Indies
A watercolour painting of the Clyde puffer SAXON (1925-1965) discharging her cargo of coal into two horse-drawn carts on a Scottish beach.
Portofino, a town in the city of Genoa in the Italian Riviera. Contributed by John Ferguson.
Plockton, a town on Loch Carron in the West Highlands of Scotland. Contributed by John Ferguson.
December 2022 and Troon Tug Company's ro-ro landing craft RED BARONESS at Old Dock, Troon.
December 2022 and Caledonian MacBrayne's CATRIONA is undergoing maintenance at Dales Marine Services Drydock, Troon.
February 1966 and United States Lines freighter AMERICAN PACKER arrives at Glasgow with general cargo from Boston U.S.A.
May 1957 and CLAN ROBERTSON arrives at Glasgow to discharge and then load for Port Sudan, Djibouti, Mombasa, Tanga, Zanzibar, Dar-es-Salaam, Lindi, Mtwara and Nacala.
July 1962 and Buries Markes ore carrier LA COLINA arrives at Terminus Quay, Glasgow with 10,134 tons of Iron Ore from Huelva (Spain)
Anchor Line's leaflet for visiting the World's Fair in New York in 1939
October 1957 and Lyle Shipping's freighter CAPE YORK was at Glasgow and loading general cargo and heavy lifts for Melbourne (Australia)
June 1957 and John Kelly's coaster BALLYLUMFORD (1954-1971) arrives at Shieldhall, Glasgow with 1680 tons of Gyproc from Drogheda (Ireland)
Hello and thank you for visiting this website
SHIPSOFTHECLYDE.COM
The aim of this nostalgic website is to record the visits of vessels to Glasgow Docks and the River Clyde and other ports in Britain and often worldwide, generally through the years 1950 to 1975 and sometimes earlier and sometimes later, and to describe any events of local shipping and overseas interest - and vessel movements at other Clyde ports and harbours, and memories from the docks and yards and dry-docks. Such a free and vastly detailed store of information will be of immense assistance to researchers, historians, enthusiasts and the general public who may need to find information on ships and shipping on the Clyde and often elsewhere and throughout the world.
It is intended to add items on a daily basis. There is an enormous amount to do, and it will take time.
USING THE SITE
The primary search facility is by the "Search Events" tab. Just click on that tab, put in the dates you want to view, either as a single date, or, as a general sweep, as for example 10th March 1960 to 15th September 1968. If you want the listings for a particular ship then select the ship's name from the "Ships" tab. Then just click on "Show full details." If you want to see all the ships entries for a certain period of time then just leave the "Ships" field empty and click "Show full details"
The "Latest Events" tab shows the latest 100 most noteworthy listings added to the website, but there are very many other everyday listings which are added to the site and which are not shown on "Latest Events."
The "Ships" tab simply shows the names of the vessels currently on the site, but more ships are being added as the entries progress. Information or details on all the vessels will be most gratefully received, and would be added to the website.
Vessel arrivals and sailings and articles are often input in a varied basis, very often at the specific request of a viewer. Generally speaking, entries so far (including those which are being planned and prepared) include :
Anchor Line Menus, Timetables, Advertising Posters, arrivals & sailings, etc.
KGV Dock, Shieldhall Riverside and Shieldhall Wharf, Glasgow
General Terminus, Kingston Dock, Bridge Wharf, Springfield and Mavisbank Quays, Glasgow
Queen's Dock, Stobcross and Yorkhill Quays, Glasgow
Elderslie Drydocks dockings and undockings, Glasgow
Broomielaw, Lancefield, Anderston, Clyde Place and Custom House Quays, Glasgow
Merklands and Meadowside Quays, Glasgow
Meadowside Dry Dock and River Kelvin

Prince's Dock, Plantation Quay, Govan Dry-Docks, Glasgow
Rothesay Dock, Clydebank, and Pudzeoch (Renfrew)
Bridge Wharf and Clyde Place Quay, Glasgow, passenger vessels 1930s to 1950s

Ardrossan Harbour
Ardrossan Shipyard and Drydock
Ayr and Troon Harbours
Ross & Marshall coastal vessel diaries
Bowling Watch House and Bowling Harbour, River Clyde
Dunglass and Old Kilpatrick oil depots, River Clyde
Arnott Young Shipbreakers at Dalmuir, Glasgow
Govan Watch House, Glasgow
Irvine Harbour 1950's to 1990's
Donaldson Line archive material and their vessel diaries
Clyde Pilot Handbook of 1930
Burns & Laird vessel diaries and material
Ben Line vessel diaries and material
Ailsa Shipyard at Troon
Anchor Line's SIDONIA maiden voyage in 1961
Anchor Line's choice pilots at Glasgow from 1960's
Patrick Henderson (Paddy Henderson) Line material.
Greenock ship movements
Clyde steamers attending Liners at Greenock from 1945 to 1948
Clyde steamer timetable for 1955
Clyde Emergency Port Anchorage in WW2
Vessels repaired in the Clyde during WW2

Transatlantic ship diaries for before 1900
Articles about shipping from 1850 to the present day
and very many vessel movements worldwide 1950's to 1980's
CAN YOU HELP WITH THIS WEBSITE ?
As you will appreciate, there is a massive amount of information still to be input, and if you have details of any of the ships or paintings or images which you can contribute, please contact us at the "Contact Us" tab at the top of the page.
ALSO while transcribing material, it is sometimes hard to read some ships names, places, etc, and the "difficult to read" items are shown in the "Comments/Can you help" section. Any assistance you can give in clarifying them will be gratefully appreciated.
DISCLAIMER: Although every attempt is made to ensure complete accuracy, I cannot accept responsibility for any losses incurred due to errors or mistakes within. Data has been sourced from many places and contributors and therefore can be subject to errors. It is the individuals own responsibility to double check all information.
Lastly, I am personally unable to conduct research on behalf of viewers, due to the time required in keeping this website updated. However, any requests for research or assistance or specific queries can be placed in the "Comments/Can you help" section for other viewers to assist.
Douglas
.......................................................................................................................................